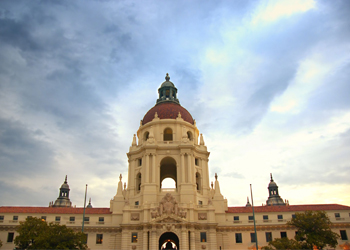 Pasadena is a town rich in heritage evident through it's architecture and history. Ideal for entertainment, the Pasadena visitors can enjoy shopping, dining, museums and live comedy to name a few. Pasadena is well equipped with parking in the form of parking complexes or valet parking. UNIFIED PARKING SERVICE prides itself in providing a unique concept in parking practices, UNIVERSAL PARKING, a concept designed specifically to make parking a convenience for the Pasadena parking user. When using Universal Parking, the customer may drop off his/her vehicle at one restaurant, go shopping at an establishment, and pick up his/her vehicle at the last destination.
For easy access parking to one of our Universal Valet Parking stations, look for the UNIFIED valet station at one of these locations:

Old Town Pasadena – shops and restaurants along Colorado Boulevard, Union and Green Street
South Lake District
Pasadena Civic Auditorium
Pasadena Civic Center
Pasadena is home of the Rose Bowl and the Rose Parade. For convenient parking for these venues, contact us at
Call us at 1(800)PARK-1-4U or you can make on-line reservations.